| | |
| --- | --- |
| Tool name: | Link Research Tools |
| Company behind the tool: | Cemper |
| Type of tool: | Advanced link analysis |
| Costs: | €20 for 3 days, or a minimum of €130 ($175) / month |
| Description: | Link Research Tools help you to get new backlinks and to optimize your existing backlinks. |
About the tools
Link Research Tools is a selection of 5 8 link building tools, brought to you by Austrian link builder Christoph Cemper. Link Research Tools collects data from 16 different sources, including Majestic SEO and SEOmoz.
The Common Back Links Tool finds link hubs, the Common Outbound Links Tool helps you to find authorities, the Back Link and Anchor Text Tool measures anchor text distribution, the Link Juice Tool returns various link values and the Strongest Subpages Tool finds the strongest subpages of a domain. LinkResearchTools also offers a Missing Links Tool (find sites that link to a competitor but not to you), a Link Juice Recovery Tool (find links to dead pages) and Link Alerts, which is the link builder's version of Google Alerts.
Both the Strongest Subpages Tool and the Link Juice Tool don't offer any specific value (at least not to me), apart from what their descriptive names promise. The other tools, however, can certainly help you to find new link targets, or to get more information about your (or your competitor's) link profile.
Common Backlink Tools
The Common Backlink Tools is a Hub Finder tool, and searches for websites that link to two or more of your competitors. You can enter up to 50 websites to check (depending on the package you've purchased), after which you can apply several filters too. It can take a bit before a Common Backlink Tool Report is completed, but when it is, you've got quite a list of potential link targets to sift through.
Where most Hub Finder tools mainly try to copy the original, the Common Backlink Tool actually tries to add some value. Listing the link themes and link types, for example, can be very useful to get an overall image of a niche. Being able to sort all results by MozRank, ACRank, or any other value you prefer also is a big plus. SEObook's version still wins it on the link usability part, though, by letting every match link to the linking page.
Screenshots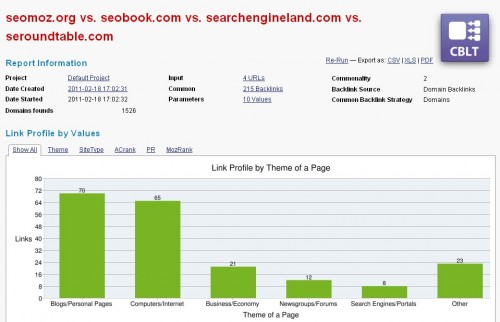 The link themes of a small niche, click to enlarge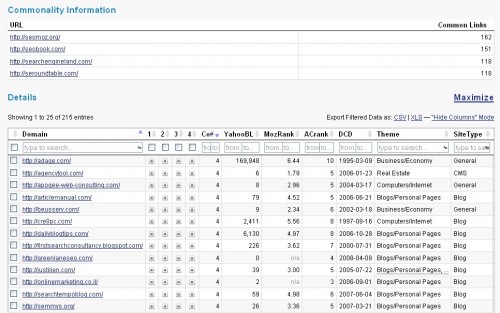 The CBLT results, click to enlarge
Backlink and Anchor Text Tool
The Backlink and Anchor Text Tool (or BATT) finds all backlinks (or internal links) to a domain or or a specific page. The tool also checks if these links still exist, if they are do-follow or no-follow and it shows several other parameters, such as IP distribution, too. The sitewide filter prevents the results from getting polluted by link networks or navigation links, and makes analyzing the link profile of a domain or page relatively easy, as a result of that.
You can also upload your own backlink data, whether it's from your own link building campaign, a Google Webmaster Tools export, or other third party data.
Screenshots

A BATT report of the Link Value Factors, click to enlarge
Common Outbound Links Tool
This tool uses Bing's linkfromdomain: to highlight important (secondary) authorities in or near your industry. It can help you to get indirect links from your competitors, and reveals common linking themes or important hubs that you could add to your link target list.
Screenshots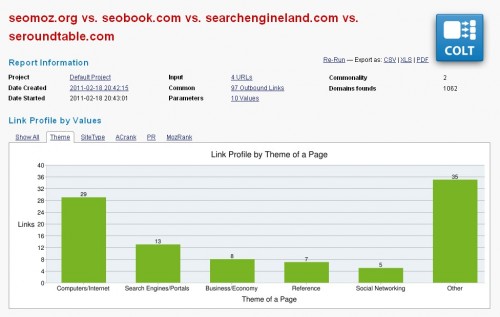 Common outbound links by theme, click to enlarge
Link Juice Recovery Tool
The Link Juice Recovery Tool identifies dead pages on your domain that have received links from other pages. For your own websites, it's much more efficient to run a report Google Webmaster Tools crawl errors report, but you can definitely use the LJRT to find links to 404 pages on your competitor's site.
Screenshots


A LJRT report, click to enlarge


Missing Links Tool
The Missing Links Tool is very similar to the Common Backlink Tool, with the addition that it clearly lists your website, so you can easily pick out the websites where you're not listed yet. Not the strongest tool in the Link Research Tools arsenal, in my opinion.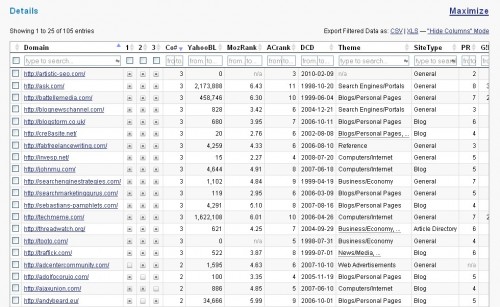 The output of the MLT is similar to the CBLT, click to enlarge


Link Alerts
This tool basically is the LRT version of Google Alerts. You'll get notified when new links to your site (or anyone else's site) are discovered. The data is being sourced from Sistrix, SEOmoz, Google Analytics (all via an API) and other API-free sources.
If you have a large site and want to monitor as much as possible, or if you want to keep track of a competitor's link building efforts, then Link Alerts is a must-use tool.
Screenshots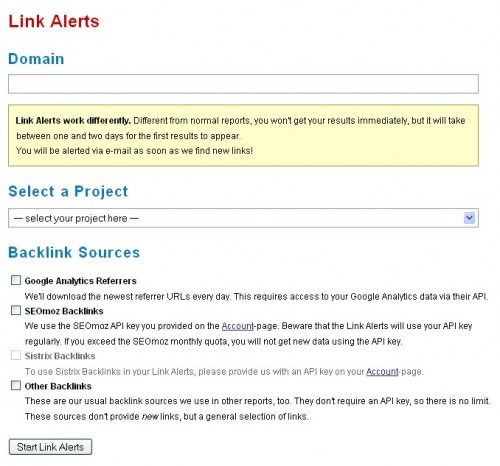 Enter a URL, and receive the results in your mail box – click to enlarge
My Opinion
Just after their launch, Link Research Tools was a steeply priced set of tools with a varying level of usefulness. Since then, a few very useful tools have been added and the usability of the site has been improved drastically.
The price of the tools has increased as well during the past year, the high-end packages will set you back €280 (about $380) a month. However, where the price/quality used to be a bit off, the increased quality of the tools now justifies this price. Especially the CBLT and Link Alerts are very useful tools.
Link Research Tools can definitely optimize the efficiency of your link building campaigns, while the amount of reports you can run will be sufficient for every in-house link builder, and for most search engine marketing agencies too.
Sign up for Link Research Tools via this affiliate link or this direct link.


Rating:
88/100
Typical user:
Professional SEO agencies, in-house SEOs, large publishers or affiliates
Pros:
Broad range of tools
Uses lots of external data, incl. MajesticSEO and SEOmoz
Strong link profile visualization
Integration of social metrics
Exporting and white label reporting is possible
Cons:
Not all tools are equally useful
Owned by a link building agency

Check out all the other link building tools I've reviewed too!