| | |
| --- | --- |
| Tool name: | Influence Finder |
| Company behind the tool: | Linkdex, Ltd |
| Type of tool: | Link target finder |
| Costs: | Subscriptions start at $249/ month |
| Description: | Finding influential and relevant conversations for online marketers. |
About the tool
Influence Finder is one of the new kids on the block. Having received $1m in funding from a large European investor, Linkdex has already started developing their new link building tool in 2008, and was able to launch it in May 2010.
Influence Finder can best be described as a link target finder on steroids. You can use your own URL, as well as several additional competitor URLs to find great link targets. Influence Finder uses Majestic SEO's massive link database, and even improves that data. The Influence Finder bot (which behaves like any other search engine robots, obeying protocols etc.) re-indexes the backlink page data, ensuring it's fresh. All non-existing links will be left out, and advanced redirect following even increases the data set.
This additional crawling means that it can take a while before you get to see the first results, but these results are worth waiting for. Depending on the amount of URLs you have entered when you started a project, you'll end up with several hundreds or many thousands of possibly interesting domains. This is where the advanced filters come into play.
Many additional filters make it relatively easy to turn large lists of link prospects into smaller, more accurate and actionable lists. One of these filters is a decision tree-driven blog-checker, which allows you to filter out blogs from 'regular' websites. The Heartbeat checker tries to find out if a website has a 'heartbeat', or if it's more than likely a less interesting, automated website, and Influence Finder has the ability to highlight ecommerce websites as well.
Small additions, such as displaying screen previews of target sites, or a function that allows you to check for LinkedIn connections at a target site very quickly make this tool even more easy to use. Features that will be implemented in the (near) future are support of non-standard character sets, and the possibility to import your own link data.
Screenshots


Creating a project, click to enlarge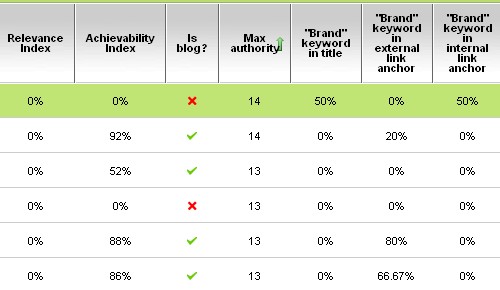 Sort results by different variables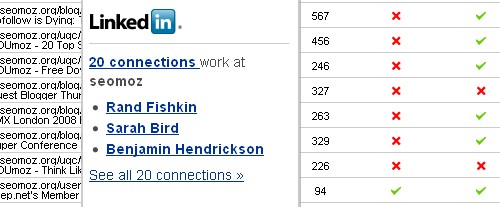 Connection with LinkedIn, click to enlarge
My Opinion
For a tool that has just entered its public Beta stage, I must say that Influence Finder looks very promising. Sure, there's still room for improvement here and there, but I am sure that a first batch of user feedback will help Linkdex to address this properly.
It can be very difficult to turn large lists of link prospects into smaller, actionable lists with highly relevant websites only, but Influence Finder makes this a lot easier. In fact, this tool allows you to apply so many filters, that you almost need a 24″ monitor (or even larger) to make it look less cluttered :)
Rating:
92/100
Pros:
Great advanced filtering possibilities
Connection with LinkedIn
Possibility to important additional data
Cons:
Currently supports standard character sets only
Check out all the other link building tools I've reviewed too!