27 May
A good link building toolbox is invaluable. Some tools provide extra information or insights, while others  point you to possible new link targets. Using a combination of various tools can without a doubt lead to analysis paralysis, but the right set of tools (and no more!) can put you in the right link building direction. In this post, I'm not going to name all link building tools, but simply the ones that I use.

There are a few different types of tools that you can use for link building (I'm not talking about link building software here, btw), of which the most important ones are listed below.
One-click Analysis Tools
When you need to know simple things, like the amount of links that point to a specific page or domain according to Yahoo!, or which anchor text is being used (too) often, you need tools who give you this information in just a few clicks. One-click analysis tools are great to give you some quick insights in the situation of a website, but they come short when you're performing an in-depth analysis.
SearchStatus
Actually, Quirk's SearchStatus isn't exactly a tool, but a collection of features in a single Firefox plugin. Useful information, such as Google TBPR, page- and domain links via Yahoo! SiteExplorer, whois information, Google's cache of the page you're visiting, an on-page link report and Archive.org are just a mouse click away. SearchStatus also provides the option to highlight all nofollow links, which is a very useful addition as well.
LinkDiagnosis
LinkDiagnosis, which is available as a web based tool and as Firefox plugin, is like the Yahoo! SiteExplorer on crack. It tries to filter out all low quality links (not always with success), provides a list of common anchor texts, and tries to create a list with the most popular pages of the domain you're investigating.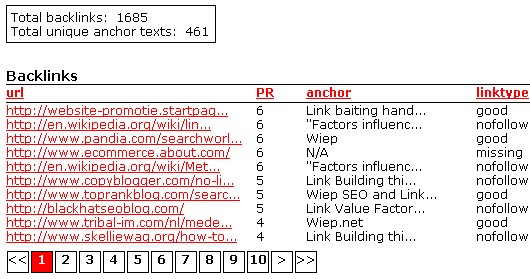 A big benefit of LinkDiagnosis is that you can download the data (export=good :)) as a csv file, and use it in the way you want it.
The speed of the tool depends on the size of the backlink profile you're investigating. A small site will only take a few seconds, but it may take LinkDiagnosis somewhat longer (up to about half an hour) to create a report of a site with a larger backlink profile.
When you need a general overview of a link profile, want an estimation of what the most important pages (in terms of incoming links) of a domain are, or what the anchor text spreading is, LinkDiagnosis is to tool to go to.
In-Depth Analysis Tools
When you need more detailed information, for example when you're investigating your own website, or your competitor's, you need tools that go more into depth. These tools might show link building efforts, structures, or maybe even data from the past.
Although Google's Webmaster Tools also can provide quite some link related info, I'm not going to mention this one, because it can only be used for your own sites, and not -for instance- competitors.
MajesticSEO
Both SEOmoz' Linkscape and MajesticSEO try to create a (near) complete index of the web for SEO purposes. While Linkscape has a far more user friendly user interface, I prefer Majestic, because it can deliver a broader range of data, and because all data (instead of a limited amount) can be downloaded in csv format. MajesticSEO is free to use for your own site (verification required), but you have to pay for detailed competitor reports. MajesticSEO also has a (free) Bad Neighborhood Checker, which lists up to 25 domains on your IP address (both C and D class) sorted by the amount of backlinks.
The biggest 'problem' of MajesticSEO, is that it provides so much information, that it may be a data overload for some. To name a few things Majestic can do for you:
Provide 'normal' information, such as anchor text use, or your most popular pages (sorted by incoming links)
Show all incoming links of a domain sorted by TLD or country
List all incoming links of a domain sorted by complete or C-class IP adress
Give a separated view of the total amount of incoming links and the total amount of referring domains
Show only links in frames, nofollow links, image links or redirect links
Links from the past (excellent info when you take on a new client!)
Another great feature of Majestic is their Compare domain backlink history tool, which can compare the backlink discovery of up to five websites. This can be very useful when you want to keep track of your link building efforts, or if you want to spot anomalities in the link growth of your competitors. The functionality to investigate specific link discovery date ranges makes is very easy to determine what kind of link building or PR efforts caused a specific spike in new links.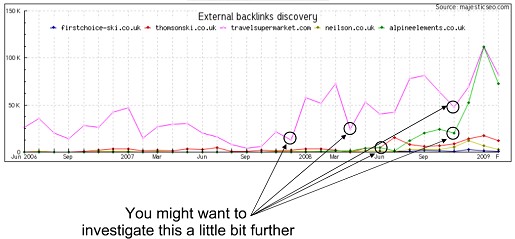 One thing that you have to keep in mind, though, is that MajesticSEO shows you data of when they discovered new links, and not when these links were actually placed. The overall pattern is usually ok, but the actual dates can be a bit off.
Xenu's Link Sleuth
Where MajesticSEO is awesome for off-site link research, Xenu's Link Sleuth is excellent for on-site analysis. This tool, which tries to act as a search engine crawler, checks websites for broken links and displays a continuously updated list of URLs, which can be sorted by different criteria.
Link Sleuth is the perfect tool to give you an overview of your website (and internal link) structure, because it lists all incoming internal links per page, anchor text of links (or page title) and the depth level of each page. If an important page rests at level seven (7 clicks away from the home page) with just one incoming link, you know something is wrong.
The tool also shows you which of the pages you link to, both external and internal pages, return a 404 error. While Google Webmaster Tools also provides information about which of your URLs return a 404 error (a great place to start your link building campaign, btw), it doesn't list off-site pages that return a 404. You can either remove these dead links from your pages, or contact the webmaster of the site, and ask if something went wrong (wink, wink).
You can also use Link Sleuth to run a report of a website you really want to get a link from. If you can spot a few dead links, you've found yourself a great opening to start communication with the webmaster of that particular site.
Link Target Tools
Now that you've analyzed the crap out of your own website and your competitors', it's time to use some tools that help you find new link targets.
Hubfinder
SEObook's Hubfinder looks for sites which have co occurring links to related authoritative websites on a particular topic. The tool used to be free, but it is now only accessible for paid SEObook members. However, there are still a few (free) mirrors available, which allows you to play around with the tool a little bit.
You can enter up to ten (or even 20 with the paid version) competing websites, and Hubfinder looks for websites that link to at least two of these competing sites. You can also add your own website, so you can filter out all sites that already link to you very easily.
The result is a list of multiple (this can vary from a few dozen to a few hundred) websites that link to several of your competitors, but not to you. Excellent link targets, if you ask me.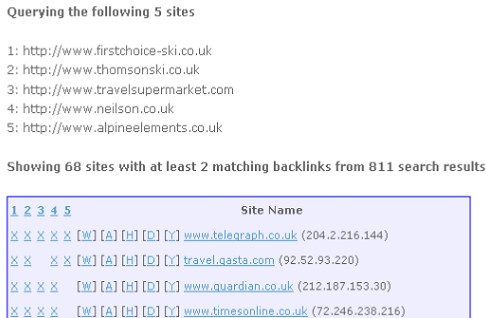 The only thing you have to do yourself, is filter out all the low quality sites. The co-citation tool uses Yahoo! to gather results, which means that Dmoz clones, guestbooks and other low quality pages are usually included in the list of link targets.
Link Harvester
Link Harvester, another SEObook tool, shows unique domains linking to a site, including the IP address and unique C block addresses of the links. It also highlights links from .edu, .gov, .mil., and .ac.uk domains, as these links might have greater impact. It includes links to archive.org, whois, Google cache, and several other useful sites near each link, and also contains an export functionality.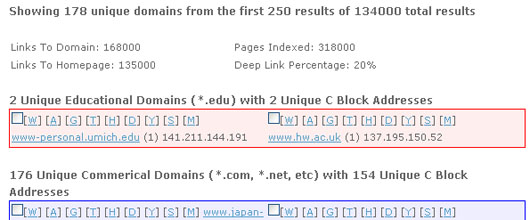 SEOmoz Link Finder
SEOmoz' Link Finder is a good tool to help you get going with finding potential new link targets via search engines. When you enter some basic information, such as your URL, a few important keywords, two competitors and your location, Link Finder creates a list of queries that may help you find relevant websites that might be willing to link to you.
This list contains search operators that lead to general directories, such as SEO + "submit your site" for example, local directories, relevant social media sites and competitor related queries.
Both SEObook and SoloSeo have a tool with the same goal, but I find Link Finder just a tad more complete, or more easy to use.
One thing that I definitely should add, is that you should never rely on link building tools only. Although the right toolbox can definitely help a lot, not a single tool can add creativity to your link marketing campaign. Tools are just a way to take a look at what your competition is doing, to find low hanging fruit, and to get you in the right direction.
If you happen to use any tools that you think are indispensable as well, feel free to share them in the comments.