9 Sep
Link Marketing isn't only about getting clickable links, it's about getting your URL spread. These 10 links won't pass any link juice, but they certainly can help getting your website out there.
1. Your Bluetooth profile name


Considering the fact that you're into SEO and computers and geeky gadget stuff, you'll probably have a phone with Bluetooth. When you select your URL as your Bluetooth profile name, everybody in your direct surroundings scanning for nearby Bluetooth phones will see your URL. This can get you at least a few visitors, especially when you use this strategy during an SES conference.
2. Your license plate frame
Take advantage of that daily traffic jam by adding your URL to your license plate frame. You can even add up to four URLs if you have a large frame before it gets cluttered. Or before the person driving behind you thinks you're spamming. You can also give license plate frames with your URL away (they're actually quite cheap).
3. Your wireless router profile name
I'm Dutch. Dutch people are cheap. So when I'm taking my dog for a walk, I'll let my phone scan for unprotected wifi connections in stead of using my providers network. A few weeks ago, I noticed someone in my neighborhood named his profile after his URL and I visited this website straight away. Right after taking advantage of his unprotected network, of course.
4. Your voice mail message
"Hi, this is Wiep. You tried to reach me, but unfortunately I'm not available at the moment. Please leave your phone number, or visit wiep.net and drop me an email or a comment, and I'll get back to you."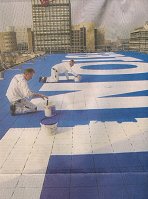 5. Your roof
Your roof is the perfect Google Earth or Live Visual Earth promotion. Paint the URL on your roof an just sit back and wait until your neighbors are checking out the digital version of your neighborhood. If you have a big house, you can even try to paint a deeplink. Do not try this when you don't live on the top floor, btw.
6. Your pens
Write your personal URL on every pen on your office desk. Because people at work usually have the strange habit to steal pens, this is a great way to spread your website around the office. Beware, that if your website happens to be NSWF, this can get you or even the colleague who's visiting your website fired. Tip: you can also use promotional pens.
7. The local internet cafe
If you regularly visit an internet cafe, it can pay off to set your website as the default start up home page. It's better to see people visiting your website than the standard MSN or Mozilla page. This also works at conferences, where there usually are several free to use computers available.
8. Your clothes
Walk around wearing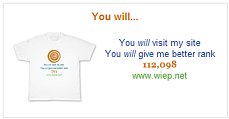 a yourwebsite.com polo shirt or a yourprofile.org cap. People will see it and some will think your website is the new trend. They will visit your website straight away. Don't overuse this strategy by wearing nothing but URL inserted clothes, because people will think you're some kind of promo guy wearing link spam clothes.
9. Your phone number
If you don't have a domain name like this, you can also choose to set up your domain name as your phone number. Choose 1-800-YOUR-DOMAIN-COM as your personal phone number if you want your URL out there.
10. Fill this one in your self
What other uncommon places are out there where you can drop your URL? Add a comment with your suggestions. And while you're at it, don't forget to leave your URL as well.