7 Nov
In my opinion, these two types of online promotion are almost the same, except for one big difference: the end goal. In a Viral Marketing campaign, the main goal usually is to reach as much people as possible (in a SMART way) to deliver them a positive brand message.
When you're link baiting, you can be aiming at the same people, but the end goal usually is to attract as much (ideally relevant) links as possible, to eventually increase search engine rankings. Link Baiting is the search engine optimized version of Viral Marketing. A few technical changes can turn a viral campaign into a well organized link baiting campaign.
Examples usually tell more than a hundred paragraphs.
Let's take a look at The Chamber of Torture (Warning: pretty NSFW and 18+ only). This Saw IV The Movie promotion website, where you can torture Britney, Cameron Diaz and other celebrities, might look pretty entertaining for visitors, but looks really different to search engines. Search engines see nothing more than two lines of text in a flashcontent-div and five links to social media websites. This is like mentioning the newspapers, that wrote something about your print ad, in your own radio commercial. Without mentioning your own brand. In this case, Lionsgate is promoting Del.icio.us, Digg and others with this viral campaign.
(Hat tip to ViralBlog.com)
How to turn a viral campaign into a link bait
If you want your viral campaign to result in an improvement in rankings in search engines as well, there are two important things to keep in mind.
Relevancy
If you're planning on building a link baiting page about strange toilets from all over the world, while your core business is providing job and career info, this will result in lots of irrelevant links. Lots of buzz, but irrelevant links. You might be able to achieve top positions on "strange toilets", but it won't improve your rankings on "career info" a lot.
Creating a link baiting campaign is a page about increasing blog traffic, while your core business is to explain people how to increase their traffic, however, is baiting links; relevant style. Oh, and make sure to target your link bait title as well.
Funneling the Juice
This differentiates a Link Baiter from a Viral Marketer. Why not turning the buzz you created into an improvement of search engine rankings? Neglecting this is like opening a giant store with only one small entrance on the side of the building. Sure, people will walk in, but you're not receiving the amount of visitors you could.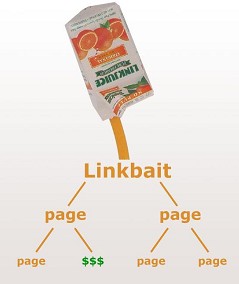 So: include search engine indexable links to other parts of your website.
While you're at it, you can even try to deliver the majority of the linkjuice you received to the pages that really need it; the ones that make the money. Although every successful link baiting campaign delivers some link juice to your main page, it can be advisable to take control and to let the juice flow to your most important pages only.
When your full, 512 links counting css drop down navigation is present on your link baiting page, you're dividing the page's link strength over these 512 links. This is ok if all these 512 pages are product pages or other pages that somehow pay some of the bills. If not, you might take a look at turning off the link juice tap for the least important pages. You can do this by nofollowing these pages, or by making the links to these pages not indexable with javascript or a robots txt-ed out redirect. You could even remove these links completely, but I don't recommend doing this.
The difference between a link bait and a viral campaign will probably disappear in the future; you'll see an increase in search engine friendly viral campaigns. Advertisers and marketing agencies will become more and more aware of the possible search engine advantages that a viral campaign can offer, if executed correctly. At least, they should.