12 Nov
It's pretty important to keep up with Google's latest trends, changes and technologies if you want to achieve top rankings. If you're able to get in front of Google's technologies, that would be even better.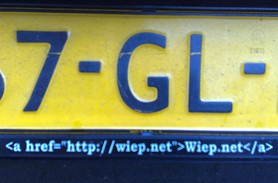 With the almighty Google being capable of indexing almost anything and with Google Earth in mind, here's my try on beating Google's technology: Google Earth Links®.
Index that, Google!
So, if you ever notice a wacko in a Seat Ibiza with a license plate frame with <a href> code driving in front of you on a Dutch highway, that's probably me. Or it's one of those scrapers.