4 Aug
Viral Marketing seems hotter than ever. Where everybody in the SEO world is talking about link bait, the traditional marketing agencies are pushing their viral skills. Almost every marketing agency has some viral experience and is profiling themselves as an expert. With lots and lots of new funny, clever and great viral campaigns every day, it hurts my SEO heart to see what some businesses are missing out on.
The great thing about a successful viral campaign, is that it generates a lot of attention (and links!) in a very short period of time. When you look at some viral campaigns, it seems that there are still lots of marketing agencies that forget one of the most important factors of the 21st century; The Search Engine. Just take a look at these 4 examples that completely missed the link boat. Keep in mind that I found these examples in under 30 minutes, what must be an indication of something…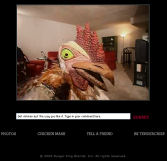 1) Subservient Chicken (Burger King)
A great viral campaign, but it's 99% Flash. When you take a look from a search engine's point of view, you'll see that almost 30,000 links are pointing to"© 2004 Burger King Brands, Inc. All rights reserved.". There isn't even a simple link on the page to the Burger King corporate website…
2) WhySoSerious.com
This campaign was apparently launched for the latest Batman movie? I don't know that for sure, because the domain WhySoSerious.com is already redirecting to a The Joker fansite. With a 302 redirect. No, seriously. They're almost throwing away the 900 blog links WhySoSerious.com attracted during the past few weeks…
3) The Skittles Touch (Skittles)
Ok, maybe this isn't a viral campaign, but I still wanted to mention this one. A lot of webmasters and bloggers embed YouTube (or other) movies on their websites, when they think it's a cool one. In some occasions, YouTube (or the other movie website) will show the opening frame of the movie, when the movie isn't playing. This means that the first frame is a great branding opportunity, and this is what The Skittles Touch is missing out on. Oh, and they didn't add their URL to both the last frames of the movie and the YouTube page…
4) Shave Everywhere (Philips)
Ok, we seem to be improving now. While this viral campaign is a bit similar to the earlier mentioned Burger King campaign, Philips (read: Tribal DDB) has added a few good things: links.
Here's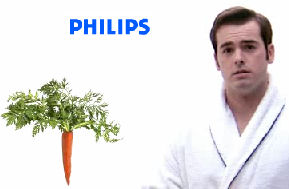 the "however": Philips is trying to re-brand the Norelco label (which is big in the US) to the corporate Philips Shavers label. When you look at the main page of ShaveEverywhere.com , you'll see three links. Two image links and a text link. When you're trying to move from one brand to the other, it would be better to let the text link point to the Philips website in stead of to Norelco.com. Oh, and adding a bit of anchor text would help as well. And so would pointing the link to the Philips Shavers website (=relevance) in stead of to the Philips USA website. What's up with the USA part of the link, anyway?
Two minor mistakes Philips made, are not registering Shaveverywhere.com (with a single e) and not giving the opportunity to deeplink. If you keep adding new stuff to a funny website (which is what they're still doing), I want to link to that new feature!
What should a good viral look like?
Good example: Pepsi Tattoo
Why is this one good?
The viral is being hosted on their own domain! You don't see that very often, do you? Because there are links on the main page of the viral campaign, the link juice is partially being transferred to the UK website of Pepsi.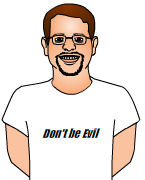 Better example: SEO Game
Why is this one better?
It's the name part. GSInc could have named their game "Anti-spam game", but they didn't. You want links pointing to your website/ viral campaign page with a relevant anchor text. GSInc is receiving hundreds of links with an anchor text that starts with "SEO".
Ok, obviously not every viral campaign can be designed 100% search engine optimized. But doesn't take a lot of effort to either make a viral campaign search engine friendly, or to transfer at least a part of the link juice to the website that is bringing in the money.