8 Apr
Link building can be relatively easy or pretty difficult, depending on the industry, the type of website and the content. One type of website I have always felt is quite easy to promote, is an image rich website.
Images tell stories, images trigger emotions and images are usually non-commercial, which means they have everything a link builder needs. With a bunch of great images and the right approach, you can turn your photo-rich website into an image-powered link magnet.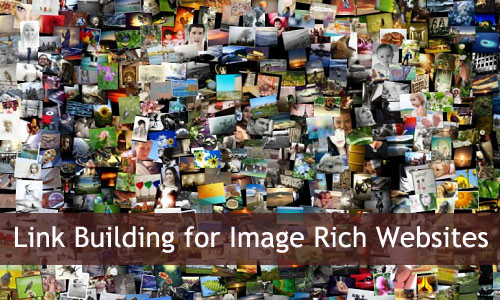 Image via Krazydad
Damage repair
However, life isn't always as good as it should be. Scrapers, copycats, cheapskates and other scum try to use other peoples' photos for their benefit, without paying for it, or even giving credits to the owner. Especially for Flickr users, photographers and webmasters that paid for their images, this can be pretty frustrating.
Some website try to block others from stealing their images as much as they can, but with tools like Clip 'n Save, this is a near-impossible job. So in stead of doing your utmost to block image theft, how about shifting your focus to use image users for your benefit? After all, positive energy is more likely to lead to positive results.
Find *your* images
Step one is to all websites that use images you own the rights of. This sounds like a very difficult job, but with reverse search engine Tineye, which searches for similar images in its database of 1.37 billion images, it's actually pretty easy. You can use their website or the very useful Tineye plugin to search for images that are exactly or pretty much the same as yours. If you want to check hundreds or thousands of images, you can also use their commercial API.

For example, a quick search for this image not only highlighted the same image on Nowsourcing.com (with a link back to my site), but Tineye also found the original of the image.
Now if Nowsourcing.com didn't have a link pointing back to Wiep.net in the article, I would probably have contacted Brian Wallace, asking him if he would be so kind to link back to the original, since he liked the image so much. It's that easy.
Getting links, building relationships
Agreed, lots of websites -mostly scrapers, forums or cheapskates- that use your images will probably not link back to you. However, it's not about the websites that won't link back to you, it's about the ones that will.
Your moment of contact could be the start of a new and good relationship – they have used your image once, so they might be interested in using more of your images in the future. Which they can, obviously, in exchange for one or more juicy links. Or money, if you prefer the offline currency.
Tineye is also great to check your stock photos, by the way. If you had known that this lady works for 153 different websites, you probably wouldn't have hired her for your customer support…
Find hotlinkers
Tineye does not find all images, so you need a second step in your damage repair process. You can find out who is hotlinking your images in your logfiles, but Yahoo! (unlike most other search engines) shows which websites link to your images, too.
Contact the important ones
After you have compiled a large list with websites that hotlink your images, it's best to start with filtering out the most important websites. Create a shortlist with authority and/ or highly relevant websites that use your images, and contact them directly. The 'getting links, building relationships' works here as well.
Watermark the scrapers & forums
You can contact as many scrapers, sploggers and forums as you want, but none of them will link to you. This means that we'll have to work on a different solution for these owners of automated or UGC websites; shooting them in the kneecap using watermarks. In most cases, a watermark is the closest you will get to getting a link from these types of websites.
There are several ways you can add a watermark to hotlinked images, for example with php or with a cgi script. You can make the watermark as large as you want, or you can even go as far as replacing your images by another image. This is completely up to you, but I usually prefer a smaller, but very clear logo plus URL.
Make linking easier
Now that you have managed to get some links from people that were already using your images, it's time to ditch most of the booby traps and other anti-copy protection on your website. These 'solutions' are usually bothering your regular users, and have a limited efficiency. If someone really wants to use one of your images, he or she will get it, eventually.
Clear guidelines
One of the most important things is to have clear guidelines, that easily informs people on how they can use your images. It depends on your website what the preferred method of displaying these guidelines is, but it is usually the more prominent, the better.
Make sure that your guidelines and/ or the photos pages also contain the proper creative commons information. This ensures that your somewhat web-savvy visitors will know how they should treat your images.
Embed code
If you own the rights of your images, you can also choose to take 'make linking easier' one step further, by providing an easy embed code to visitors that want to use your photos. You can display this code on every page, or just when someone right-clicks on one of your images. Services like Tynt can be very useful too, but unfortunately most of these only work for text, and not for images.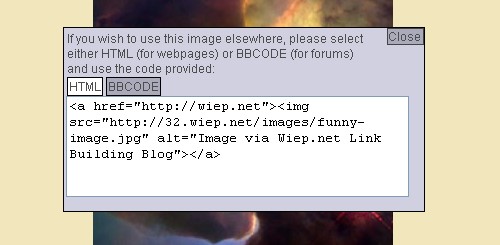 Please note that providing an embed code may conflict with the watermarks you've set up earlier. Either inform your users that a small watermark will be added to the photo, or, preferably, host your images on one or more subdomains too. This way, you can put the image location on the subdomain in the embed code, while leaving your 'regular' photos where they already were. Allowing the subdomain images to be hotlinked, but disallowing it for the regular images, would allow both solutions to coexist.
Again, not a single solution is completely water proof, but when it comes to images, there will never be one.
Target image search engine users
There is one type of visitor you probably want to treat differently, which is the visitor who came in via an image search engine. If someone found your website via images.google.com, bing.com/images, or any other search engine, he or she is more than likely to be interested in your images only. Therefore, treating him or her accordingly is not more than logical.
Maurizio Petrone wrote a great article about how to treat image search engine referrers for PolePositionMarketing a while back, so in stead of regurgitating his article, I'd just advise you to read his post.
Again, it's completely up to you how aggressively you want to combat image theft. Try to find your personal sweet spot between user experience, image protection and getting links, and set up your measures accordingly.
To conclude
Like I have said many times in this article, it's near impossible to completely block others from using (read: stealing) your images. However, by taking the right precautions, you can ensure that your website will receive as much link juice from your images as possible.
Obviously, there are many more ways to promote a website that contains lots of beautiful images. However, it depends on your type of website if a photo contest, submitting your website to image related directories, using galleries, or providing photography/ Photoshop/ etc. tips is the right fit for you. A little bit of creativity will get you pretty far, though ;)
Update: Two great additional resources from the comments. Who said blog commenting can't get you links? :)