16 May
I knew that Google stopped allowing ads for search phrases like 'buy links' and 'text link ads' a while ago, but apparently, Google stopped accepting ads for 'link building' as well. After doing some research, I found out that a member at WMW noticed this too, around a month ago.
According to the Google AdWords help center, "This keyword is not permitted to show your ads in the targeted location."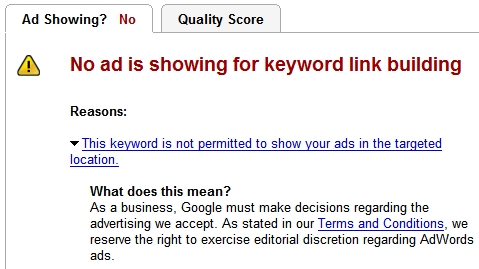 Google still displays ads for keywords like 'linkbuilding', 'link baiting' and even 'purchase links', though.
UPDATE: A reply from Google came in (translated from Dutch):
"Advertising for 'link building' isn't allowed, because Google doesn't encourage building links artificially in order to obtain higher search engine rankings, and can even penalize this. I don't know if you can interpret 'link building' in an other way, but Google sees this query as 'building links for higher rankings'. This is why advertising for this keyword isn't allowed."