20 Sep
Earlier this week, Jason Acidre wrote a post with several good link building tips at Moz. I left a comment about link reclamation, but because I received a few questions about it on Twitter and via email, I decided to write a blog post about this topic: how to find non-linking brand mentions.
First: find mentions
Do you still use Google Alerts for brand monitoring? Then you're probably missing out on 80% of your brand mentions. With a service like Mention.net you'll be able to find *much* more.
And you can also use Mention to monitor specific keywords, instead of just brands, and identify relevant articles or blog posts almost instantly after they have been published. Track two brands for free, or monitor 20 keywords for just $20 a month.
You can also use Google to find brand mentions. Simply search for the keyword that you want to monitor, exclude the sites that you don't want to keep track of, and refine to the last 24hrs, the last week or maybe even last month.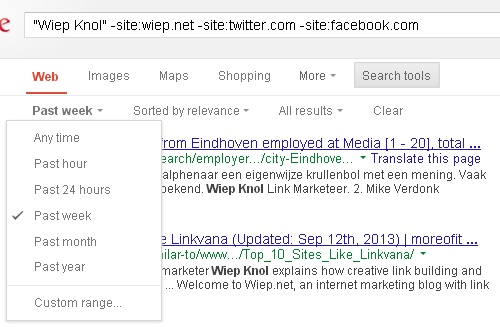 Then: identify the non-linking mentions
Now you have a list with pages that mention your brand, but the link builder in you will have a specific interest in mentions that don't link to you. Obviously, those are easy link targets.
Simply use the export function in Mention.net to get a full list of the URLs that mention your brand. If you use Google, set your preferences to 100 results instead of 10 first. Then use SEOquake or Mozbar (both are Firefox plugins) to easily save all URLs in a csv file.
With SEOtools for Excel, you can crawl these pages and search for sites that don't link to your site. Use IsFoundOnPage and search for your URL.

Please note that this can take a while, depending on the size of your list. If a zero is returned, the string (your URL) could not be found on the page, which means that they don't link to your site. Yet. Because you will ask them to, of course.


I'd definitely like a link from Example.com…

Pro tip: in stead of using Excel, you can also get someone at Freelancer.com or Odesk to build you a tool that does the same for less than $50. That tool will probably be faster and will give you more options to retrieve additional info or data from the pages that you're checking.