| | |
| --- | --- |
| Tool name: | Link Builder |
| Company behind the tool: | Rivergold Associates Ltd |
| Type of tool: | Link prospect finder & management tool |
| Costs: | $59/ month |
| Description: | Build Links to Boost Your Search Engine Rankings. |
About the tool
Wordtracker's Link Builder uses Majestic SEO data in a very simplified layout. It allows you to either enter a list with competitors (either root domains or pages), or to enter a keyword you'd like to rank for, either in Google.com or a local version of Google. If you choose the second option, Link Builder will create a list with websites that currently rank for this keyword.
In both cases, Link Builder will show a list with URLs. This list can be sorted by Rank (which seems to be Link Builder's translation of Majestic ACRank), by Co-link count (how many competitors does this site link to) or by whether the site already links to you or not.
By clicking on a site, you're able to see on what pages they're linking to one or more of your competitors (or your site), which is a very useful option that remarkably little tools offer.
You can delete, export or copy URLs from the list, or you can save them to contact later on. Unfortunately, the filter option only allows you to filter by a string in a URL. If a linking site has 'Google' in the URL, you can find it, but it's not possible to filter by websites that have 'Google' as anchor text. Another filter option is to sort by type of website, by using the categories on the left side of the screen.
After switching to the contact tab, you can let Link Builder find about us or contact pages. Especially when working with larger data sets, this can be a huge time saver. The contact management part, however, is mainly limited to adding notes or marking a target as 'contacted' on the contact tab.
Lastly, the report tab shows a few pretty charts of your campaign. Compare your historic link growth with the growth of your competitors (Majestic's Backlink History), compare backlink type profiles or see a small overview of your progress. Nothing ground breaking, but overall nice charts to show to a client or supervisor.
Screenshots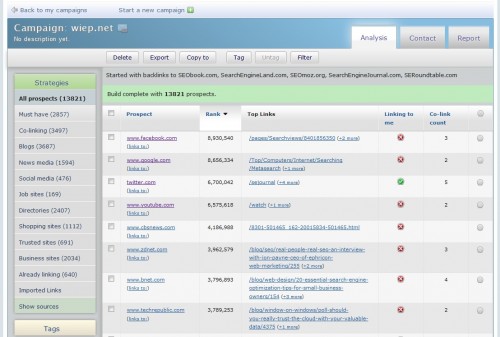 Enter your competitors to let Link Builder discover link targets, click to enlarge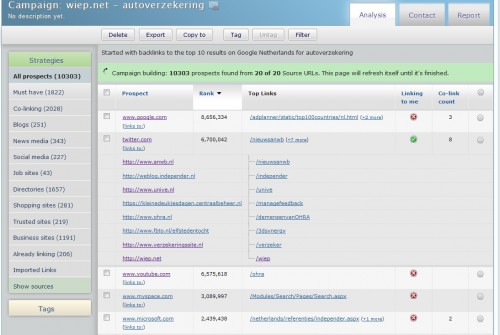 Or use a local search engine to find competitors, click to enlarge

Find contact details easily, click to enlarge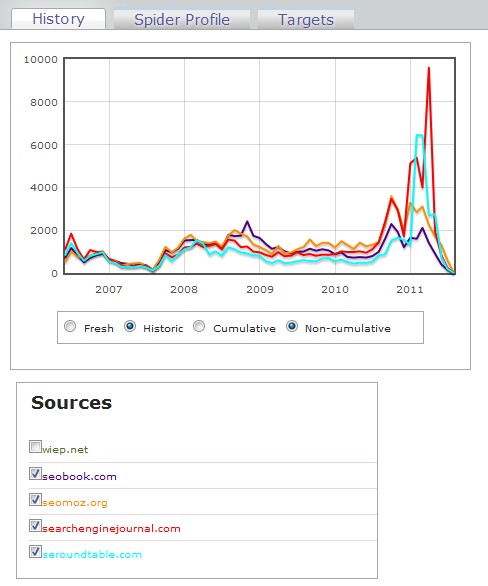 Compare link growth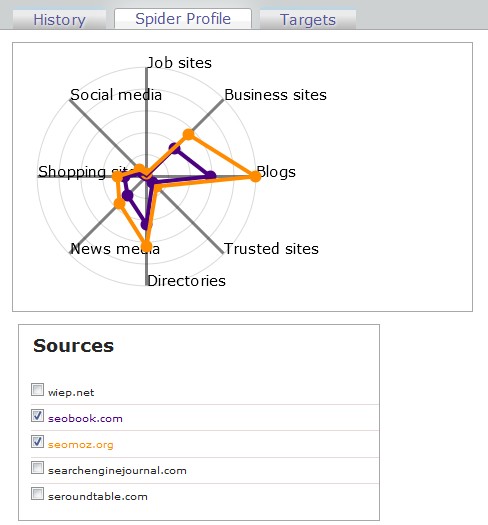 Compare link profiles of your competitors
My Opinion
Link Builder is very, very easy to use. It uses competing link profiles to discover new link targets, and it's very good at this, too. Combine this with basic link management and a little bit of tracking, and you have the perfect tool for an SMBs or in-house online marketers with lots of responsibilities and limited budgets.
As Link Builder is a competitor based prospect finder only, and has limited sorting and filtering options, I wouldn't recommend it for most experienced SEOs – but I also don't think Link Builder is targeting them.
Rating:
80/100
Typical user:
SMBs, In-house online marketers, smaller SEO agencies, affiliates
Pros:
Very easy to use
Unlimited use of Majestic data
Cons:
Limited filtering options
Check out all the other link building tools I've reviewed too!