| | |
| --- | --- |
| Tool name: | SEOmoz Pro Membership |
| Company behind the tool: | SEOmoz |
| Type of tool: | Multiple tools, as part of a premium membership |
| Costs: | Memberships start at $79/ month |
| Description: | Full access to over twenty SEO tools, designed to help with every aspect of search engine optimization. |
About the tool
SEOmoz is one of the largest SEO communities out there, and they offer several great tools for free. Some of these tools can be used completely free, others can be used limitedly without a Pro Membership, and a handful can only be used by premium members. The pro-only link building tools have been listed below.
Linkscape
Linkscape is 'a data repository and toolset built by SEOmoz that contains a frequently updated, 41+ billion URLs index of the World Wide Web, similar to the indices used by the major search engines'. Although the index sizes differ quite a lot, it is similar to the index of Majestic SEO. Regular users have limited access to Linkscape, but only Pro Members can run advanced reports.
Advanced reports allow you to dig deeper into your own link profile, or into link profiles of your competitors. Find out what your competitors strongest links are, or what anchor texts are used relatively often.
The functionality to compare up to five different link profiles with each other is excellent, as it can give you important insights very easily.
Screenshots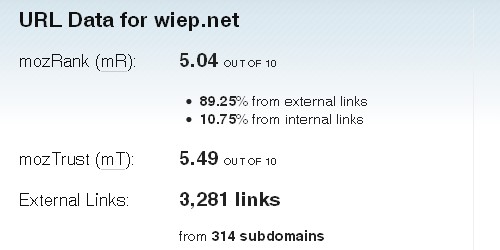 Link profile information, click to enlarge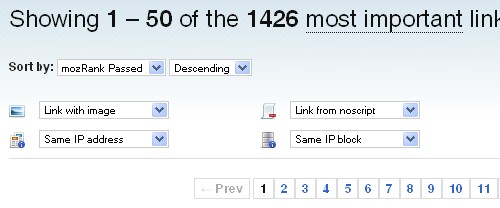 Additional filtering options, click to enlarge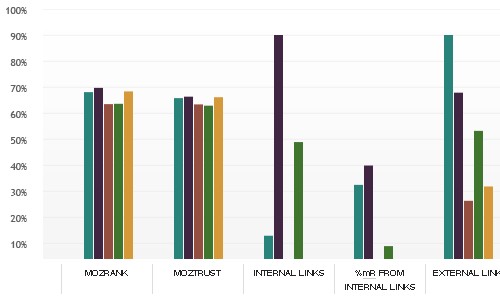 Compare up to five link profiles, click to enlarge
Juicy Link Finder
SEOmoz' Juicy Link Finder scans the top search engine results for possibly interesting websites, and allows you to sort the results on age, Pagerank or ranking.
Although this may sound interesting, the added value of this tool is pretty limited in my opinion. There are several other tools available that allow you to do pretty much the same, but have many additional features. As a secondary tool in SEOmoz' toolbox, the Juicy Link Finder is nice, but no more than that.
Screenshots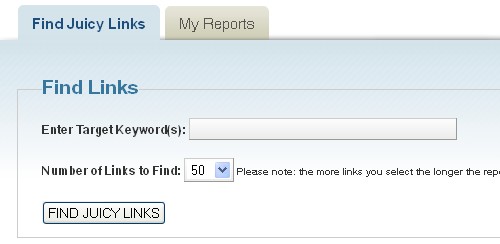 Competitive Link Finder
The Competitive Link Finder pretty much does the same as the more well-known Hub Finder (by SEObook) and the recently released Common Backlink Tool (by Link Research Tools). It searches for websites that link to up to five of your competitors, but don't link to you yet. The result of this is a list with highly relevant link targets.
The tool is still in the SEOmoz Labs, which might be one of the reasons why the tool isn't 100% stable. The message "We may be a little busy, please try again later" is being displayed just a little bit too often.
Although an export function, or an ability to see more than 25 results at once, would be nice, the Competitive Link Finder returns nice, actionable results. You can see the exact URL(s) where your competitors are getting linked from, making it easier for you to obtain links from those particular sites, too.
Screenshots


Enter a minimum of two, maximum of five competitors


The results sorted by MozRank, click to enlarge


See the exact linking URLs
My Opinion
The combination of the Linkscape index, very nifty functionalities and solid designs make most of SEOmoz' tools very useful and user friendly. Although I would have liked to export more than just the top 3,000 links that point to a specific URL, the results and options will be suitable for most types of users.
A pro membership also unlocks extended use of SEOmoz' other tools, including Open Site Explorer. If you plan on using not only the SEOmoz tools, but their resources and Q&A forum as well, the price tag of $79 a month is very reasonable.
Rating:
85/100
Typical user:
Almost anyone, especially in-house SEOs and smaller SEO agencies
Pros:
Tools are very easy to use
Makes use of (own) Linkscape index
The tools listed above are part of a bigger SEO package
Cons:
Export functionality is limited
Check out all the other link building tools I've reviewed too!