| | |
| --- | --- |
| Tool name: | Raven Internet Marketing Tools |
| Company behind the tool: | Sitening, LLC |
| Type of tool: | Wide range of SEO tools |
| Costs: | Plans start at $19/ month (30 days free trial) |
| Description: | Social Media and SEO tools for internet marketers. |
About the tool
Whether you're a content manager, a link builder or an analytics analyst, there's a tool for you in Raven's arsenal of tools. It impresses me that they managed to come up with a toolkit that includes useful features for nearly any role in search engine marketing. Obviously, I will mainly be looking at their link building tools, but it's important to know that there's a lot of other stuff that comes with 'em.
Link & Contact Manager
Raven's link management features are excellent. Keeping track of link request, communication threads, link advertisements or even live links is pretty easy with the Link Manager or the Contacts functionality. You can import your own excel files via a csv upload (make sure that your format matches the Raven Tools format), and you can let Raven include the top 1,000 links from the Yahoo! SiteExplorer as well.
After importing all your previous work, adding new stuff is very easy via the Raven Tools toolbar. Adding or saving a new targets is only a few clicks of work, and much easier than copying/ pasting into your spreadsheet. There are a lot of fields you can fill out (or leave blank), including
the type of website (blog, directory, social media site, etc.)
the type of link (free, paid, affiliate, competitor link, etc.)
when it's a paid link, you can list additional advertising details
link status (requested, active, ignore, queued, etc.)
Other features that are worth mentioning are the option to receive alerts when a link changes (or disappears) and the easy reporting functionality. Especially when you're working with several people on the same link building campaign, the link management part of the Raven Tools toolkit is extremely useful.
Site Finder
Site Finder allows you to enter a keyword phrase, after which it automatically finds and ranks domains that link to the top ten Google results for that keyword phrase. It sorts these results by using several metrics, including MozRank, Domain Authority (SEOmoz) and ACRank (Majestic).
The site finder is great to find link hubs in your industry, and you can very easily add the most interesting websites to the Link Manager when you're browsing through the Site Finder results. In comparison to some other tools, the Site Finder is actually pretty fast. A new report only takes several seconds to finish, which definitely contributes to the usability of this tool.
Backlink Explorer
The Backlink Explorer allows you to browse through the link profiles of other websites. It uses Majestic's ACRank to rank the backlinks, which I'm not sure is a benefit, as ACRank could definitely use some improvement IMHO. However, if you want to sift through a competitor's links in a quick and easy way, the Backlink Explorer can be very useful.
Website Directory
The Website Directory aggregates all of the websites that are related to links recorded in the Link Manager. The purpose of the Website directory is to help reference and find websites for building links.
When you're launching a new site, or when you're about to start a new link building campaign, browsing through the Website Directory can give you a head start. You can very easily find relevant webmasters that have generously linked to you before, making them highly interesting to approach for your new campaign. In other words: use historic efforts to build new links quickly.
Screenshots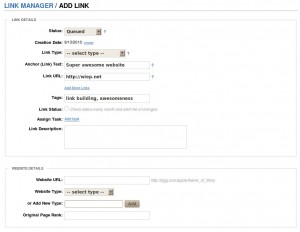 Adding a new link to the Link Manager, click to enlarge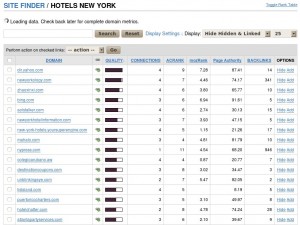 The results of a Site Finder report, click to enlarge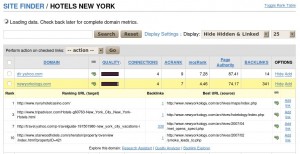 Dive deeper into the Site Finder results, click to enlarge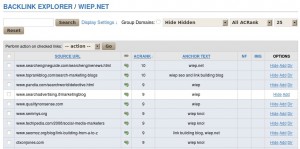 Backlink Explorer output, click to enlarge
My Opinion
The most important reason for me to use Raven Tools would be the completeness of the package. The combination and integration of keyword research tools, a ranking checker, analytics and link building makes Raven Tools extra interesting for internationally targeted, small to large sized publishers. In-house SEO's, freelance consultants and small SEO agencies (white label reporting!) will probably find Raven's arsenal of tools very useful as well.
As for the link building tools, the extended link management functionalities are definitely my favorite, but the Site Finder is *very* useful as well. To be honest, unlike with some of the other link building tools, I didn't use Raven Tools before writing this review, but I will definitely continue to use them. With the large amount of functionalities at such a low price (I think most people will use either the $99/mo or the $249/mo package), I'm not sure how you would be able to use Raven Tools without making it pay for itself.
If you have never tried Raven Tools before, I'd strongly suggest to give it a try. They offer a 30 day free trial (no credit card required), which you can start via this affiliate link or via this direct link.
Rating:
95/100
Typical user:
Almost anyone
Pros:
Easy to use
Uses many external data sources
Completeness
Competitive pricing
Cons:
Might be a bit overwhelming
Check out all the other link building tools I've reviewed too!