| | |
| --- | --- |
| Tool name: | Ontolo Link Building Tools |
| Company behind the tool: | Ontolo LLC |
| Type of tool: | Link prospecting service |
| Costs: | Plans start at $297/ month |
| Description: | A new level of campaign-specific link building |
About the tool
Ontolo's founders Garrett French and Ben Wills have been trying to automate the prospecting part of their link building services since 2004. Four years later, this process had become so useful that they decided to open it up for the public to use, with the Ontolo Link Prospecting Service as the result.
They offer a selection of free, time saving tools, but you'll have to pay to enjoy their link prospecting service. After you've provided some campaign details, Ontolo will crawl and analyze 10 to 15,000 URLs, and aggregate the link prospects in a searchable database. This means that it will take a bit before you will see the data, but the discovery and analysis process makes it definitely worth to wait for. It's like receiving the results of 1,000 link building search queries at once – analyzed, filtered and merged into a database, ready for you to use.
The result is a database of potential link prospect URLs that you can sort by relevance to your SEO keywords and a host of other metrics. You can search this continuously growing database to find guest blogging opportunies, .edu or .gov links, or any other type of link you're after. All the results are sortable by relevance, tld, Pagerank and such, and exportable to csv or Excel as well. Ontolo can automatically find contact details or social media accounts of link prospects as well – another huge time saver.
Screenshots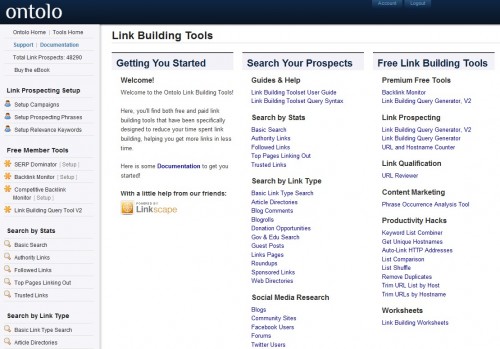 Ontolo Tools interface, click to enlarge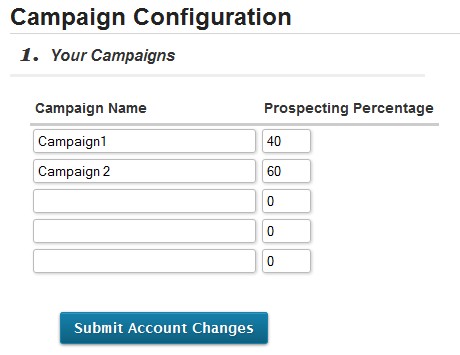 Tell Ontolo how to divide your resources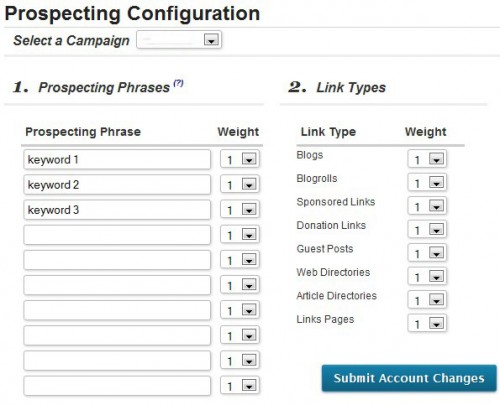 Configure the prospecting details, click to enlarge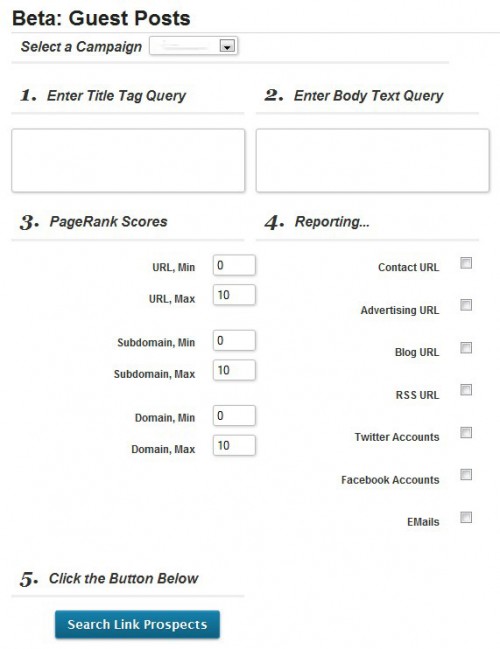 Search for a specific type of link prospect





An Ontolo Tools SERP, click to enlarge
My Opinion
Unlike most link building tools, Ontolo does not use the link profiles of competing websites to find link prospects, but it goes out and tries to find them, which obviously is a big plus. Ontolo offers a competitive prospect finder as well as a side-tool, though, so you don't have to miss this type of tool.
It's very clear that the Ontolo toolkit was designed by link builders. The main focus is on the quality of the output of the tools, and not on the ease of use or the surrounding fluff. The 'for link builders, by link builders' type of approach makes their tools not easy to use for beginners, but the guys at Ontolo are well aware of that.
If the tool itself won't scare off beginners, the price tag probably will. The 'Professional' package, which allows you to run 1 campaign and will deliver 5,000 ranked and scored link prospects a month, will set you back $297/mo. The high-end 'Agency 10' plan, where you can run 10 campaigns simultaneously, costs a whopping $1,247 a month. Using the Ontolo tools will also save you a *lot* of hours of work, but prices like that make it anything but an easy-entry tool.
You can try the free Ontolo link building tools, and sign up for a two week trial of their premium link prospecting service via this affiliate link or via this direct link.


Rating:
88/100
Pros:
Automates the most tedious part of link building
Does not use competitor link profiles by default to find link prospects
Cons:
Price tag
Not for everyone

Check out all the other link building tools I've reviewed too!