| | |
| --- | --- |
| Tool name: | Link Insight |
| Company behind the tool: | AdGooroo |
| Type of tool: | Link management tool |
| Costs: | Subscriptions start at $399/ month |
| Description: | Automated tools that allow you to focus on what matters: building quality relationships with link partners. |
About the tool
AdGooroo's Link Insight is one of the only tools that I know of that combines link profile analysis with link target identification and conversation management.
The first thing to do, is entering your own URL, as well as the URLs of several of your competitors. Then go back to what you were doing and come back one or two days later, as Link Insight gathers link data from several different sources, checks if this is still up to date, and does some calculating. The result of this is rather impressing, as your and your competitors' link profiles get compared at multiple levels. In stead of PageRank or MozRank, Link Insight uses terms like Trust Signal or Geo Signal.
When you've compared the link profiles with each other, and have found out where you'll need to focus your link building campaign on, Link Insight can also help you to find new link targets. It mostly uses the link profiles of your competitors to find these link targets, but tries to find relevant prospects on its own as well. During this process, you can use the management functions of Link Insight to keep track of what you have been doing.
One thing to keep in mind when you sign up, is that Link Insight is only available for "reputable websites and businesses who do not engage in techniques designed to artifically manipulate search engine rankings without regard to the quality of links, sources, or the long-term impact it may have on their sites." AdGooroo clearly tries to positions Link Insight as a whiter-than-white-hat link building tool.
Screenshots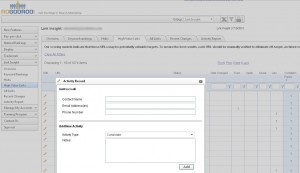 Project overview, click to enlarge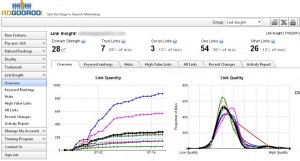 In-depth link profile analysis, click to enlarge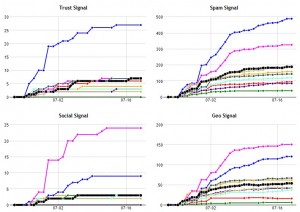 And even more pretty charts, click to enlarge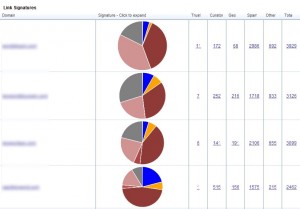 Comparing link profiles, click to enlarge
My Opinion
Link Insight is a great tool to use to analyze and compare competing link profiles, and to identify excellent link targets that already link to one of your competitors. As Link Insight is much less successful in finding link targets on its own (although I'm sure this will improve in the future), this is also it's weakness.
Mainly focusing on competitors limits the potential drastically, makes the tool specifically suitable for in-house SEO specialists who spend a day or so a month building links. It can make their work a lot less frustrating and a lot more efficient. At this moment, I don't think that Link Insight will offer extra value to agencies and freelance consultants over a longer period of time, as they usually have their own method of work, have developed in-house tools, and need to look beyond competing link profiles.
Link Insight is expensive, at a rate of $399 per license. However, if you calculate the amount of time that the tool can save you (hrs. saved * your hrly rate), you can earn this back quite easily.
Rating:
80/100
Typical user:
Media agencies or in-house SEOs/ link builders of Fortune 500 companies
Pros:
Excellent analysis features
Combines research, target identification and outreach
Lots of advanced filtering options
Cons:
Pricey
Mainly competitor-based link prospecting
Limited life span for heavy users
Check out all the other link building tools I've reviewed too!