| | |
| --- | --- |
| Tool name: | BuzzStream Link Management (aff) | (direct) |
| Company behind the tool: | Rel Equals, Inc |
| Type of tool: | Link management tool |
| Costs: | Subscriptions start at $29/ month |
| Description: | Automated tools that allow you to focus on what matters: building quality relationships with link partners. |
About the tool
Excel is probably the most used tool amongst link builders, but BuzzStream is trying to take some of Microsoft's market share away, by focusing solely on the management part of link building. This part is pretty important, but can be difficult as well if you're (just like me) not extremely organized. BuzzStream makes contact management and link monitoring relatively easy.
You can start a new campaign or import data from existing campaigns very easily. You can simply start browsing and looking for interesting websites to target. When you've found one, you can tag or save the page by using the bookmarklet. This activates the BuzzStream engine, that starts searching for contact details and opens up an extra screen to add extra details.
Now you can send your link target an email, and by adding your unique Buzzbox email address in the bcc-field, the conversation will be visible on your BuzzStream dashboard as well. After the link has been placed, BuzzStream will also monitor if the link stays online, which obviously is very useful.
Besides BuzzStream Link Management, Rel Equals also offers BuzzStream PR & Social Media, which can help to research influencers and to manage conversations with media outlets. However, BuzzStream PR & Social Media is not included in the Link Management package.
Screenshots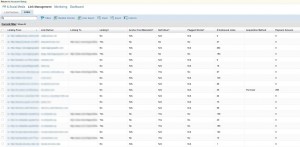 Project overview, click to enlarge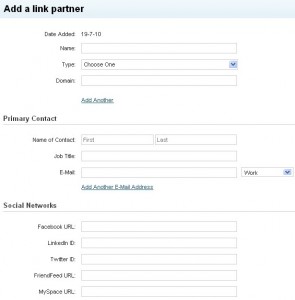 Adding a new contact, click to enlarge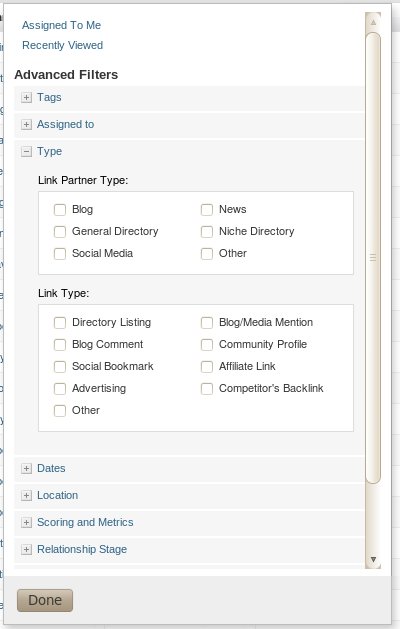 Advanced filtering options
My Opinion
If you work alone (either in-house or as a consultant) and you've always worked with Excel to manage and monitor your link building campaign, I'm not sure if BuzzStream is a must-use tool. Using a detailed tool like this can actually slow you down in your work (although this depends on how you work), but the monitoring and reporting functionalities might definitely be valuable for some.
When you're working on one link building campaign with several people at the same time (in-house or at an agency), BuzzStream can absolutely add value as a management tool. Assigning links to other team members, flagging websites as 'already contacted' or 'to approach' can avoid double work and provides better insights to campaign results. Although most teams or agencies will probably need either the $129 or the $249/mo package, mismanagement or miscommunication can lead to costs of a much bigger nature.
I like it that BuzzStream is not trying to be an all-in-one package, but only focuses on the management part, apart from including some quality metrics such as MozRank. This leaves you with using your own methods to find link partners, while BuzzStream can keep their rates lower.
Tools similar to BuzzStream Link Management are InfluenceFinder or Link Insight, but both of these have tried to include the link finding part as well.
Sign up for a 14-day trial account of Buzzstream via this affiliate link or via this direct link.
Rating:
87/100
Typical user:
Professional SEO agencies, large publishers
Pros:
Great advanced filtering possibilities
Possibility to important your own data
Cons:
Even premium accounts are somewhat limited
Check out all the other link building tools I've reviewed too!